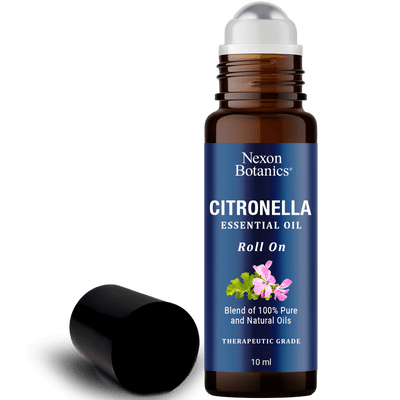 Citronella Essential Oil Roll-On
Our high-quality roll-on blend is a combination of pure and prediluted citronella and grapeseed oils. It exudes a fresh, exotic, and divine scent that puts you in a good mood and uplifts the spirit. Apply it to your wrists and reflex points for rejuvenation and comfort. The oils in this roll-on blend are natural moisturizers that increase the skin's hydration levels and support suppleness. It absorbs quickly and gives off a lasting fragrance without leaving a greasy or sticky feel. This blend comes in a modest size bottle that is perfect for traveling too.
Benefits
Happy Vibes: The refreshing and invigorating blend of citronella and grapeseed oils promote comfort., clarity, and cheer.
Balanced Mood: This aromatherapy roll-on blend is just what you need to boost your mood and relax the mind in stressful situations.
Moisturizes Skin: Citronella oil is known to have hydrating properties that support skin rejuvenation. Grapeseed oil serves as a natural antioxidant that fortifies the lipid barrier.
Lasting Fragrance: It has a calming but non-overpowering fragrance that lasts for long hours.
No Additives: Pure and prediluted oils without toxins, artificial fragrances, or additives.
Ingredients
Citronella Essential Oil, Grapeseed Oil