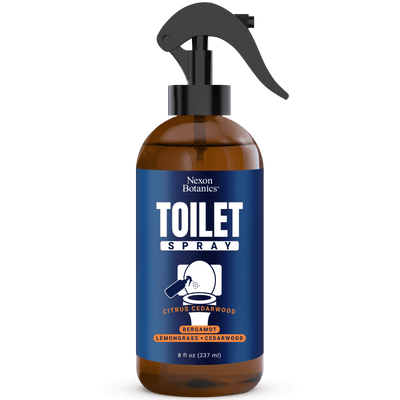 Citrus Cedarwood Toilet Spray 8 fl oz
Nexon Botanics Citrus Cedarwood Toilet Spray is a harmonious fusion of nature's most refreshing scents. Infused with invigorating citrusy oils and soothing cedarwood, this toilet spray is a must-have toilet essential. Its potent formula banishes unpleasant odors and imparts a revitalizing fragrance, leaving your space with an inviting and clean scent.

Crafted for the modern lifestyle, our Citrus Cedarwood Toilet Spray comes in convenient, travel-friendly packaging. Slip it effortlessly into your purse or pocket, ensuring a burst of freshness wherever you go. Nexon Botanics is setting up a new standard of freshness with this toilet spray. This product is non-GMO, cruelty-free, and paraben-free.
Benefits:
Refreshing Scent: Citrus Cedarwood Toilet Spray combines the clarifying properties of essential oils to eliminate unpleasant odors, leaving your environment with a revitalizing and clean aroma.
Chemical-Free: This toilet spray is absolutely free from parabens, sulfates, or any harsh chemicals, it ensures a hygienic and wholesome experience.
Travel Size: Wherever life takes you, this compact spray ensures you're armed to combat odors discreetly, so you can bid farewell to embarrassing moments with confidence.
Beyond Bathroom: This versatile toilet spray doesn't stop at the bathroom door. Its pleasantly subtle aroma transforms any space, making it perfect for freshening up your car, room, laundry area, or trash bin.
Proudly Made in the USA: Citrus Cedarwood Toilet Spray is crafted and packaged right here in the USA, reflecting our commitment to quality and excellence.
Ingredients:
Distilled Water, Organic Tapioca Starch, Cedarwood Virginia, Pine Needle, Bergamot, Eucalyptus, Globulus, Lemon (Cold Pressed) Essential Oil, Pink Grapefruit, Spearmint Essential Oil, Lemongrass Essential Oil, Geranium (Egypt) Essential Oil