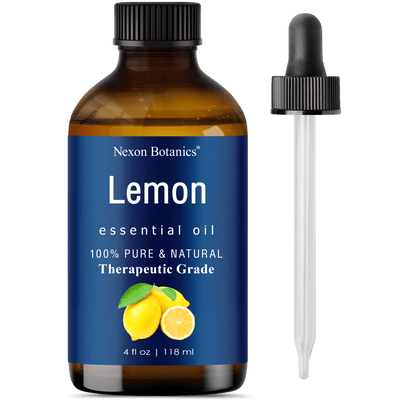 Organic Lemon Essential Oil - 4oz
Nexon Botanics Organic Lemon Essential Oil is extracted from Citros Limon plant, which originated in Italy. Our oil is 100% pure, natural, and organic. It is USDA certified without the addition of any additives, fillers, or alcohol. Lemon Essential Oil has purifying, detoxifying, and invigorating properties that offer countless mind-body benefits. It can be used for natural skin and hair care remedies, diffusers, inhalation, and aromatherapy practices. Well-known for its renewing and refreshing abilities, lemon essential oil is a natural burst of energy for the skin, body, and mind. It is bottled in the US. Responsibly made and not tested on animals.
Benefits
Aromatherapy Benefits: It has a fresh and bright aroma that creates an uplifting ambiance in your surroundings to promote a cheerful mood throughout the day. 

Visibly Shiny Hair: Lemon Essential Oil detoxifies the scalp, drawing out dirt buildup and excess oils, leaving the hair looking shiny and voluminous.

Even-Toned Complexion: Lemon Essential Oil has astringent properties known to promote skin's firmness and elasticity. 

Massage/Topical Use: Lemon Essential Oil is an excellent massage oil that helps relax the aching body and joint stiffness. 

Deodorize Air/Soothe Congestion:

Lemon Essential Oil's energizing and refreshing scent deodorizes the atmosphere and promotes comfortable breathing.
Ingredients 
Lemon Essential Oil