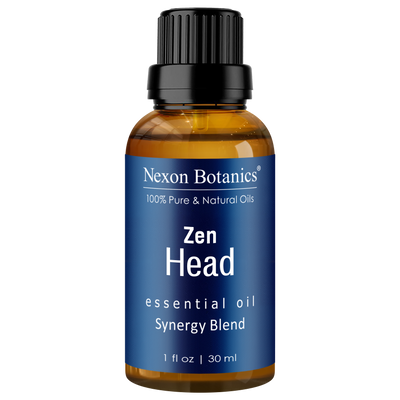 Zen Head Essential Oil Blend
Nexon Botanics Zen Head Essential Oil Blend consists of a proprietary combination of 4 pure, natural, and therapeutic grade essential oils. It contains clove, cinnamon, orange, and nutmeg oils in undiluted forms. This blend calms headaches and migraines, leaving you feeling relaxed and peaceful. Its soothing and warming aroma helps reduce anxious feelings while creating a reassuring ambiance. It contains clove and nutmeg oils known for easing congestion and respiratory discomfort—a perfect blend to boost optimistic thoughts at any moment of your day. 
Benefits:
Natural Headache Comfort: Nexon Botanics Zen Head Essential Oil Blend calms headaches and migraines, helping you take a good night's sleep. 

Eases Tense Feelings: This blend prmotes feelings of calmness with its aroma and creates a soothing and tranquil environment.

Promotes Relaxation: A perfect blend made with Nexon Botanics' therapeutic oils to promote a relaxing and calm environment in your house or workspace.

Helps Calm Stress: A great blend that comforts the agitated mind with its soothing scent, allowing you to overcome stressful feelings

Soothes Congestion: Our blend has a warming scent that soothes congestion and stuffiness, helping you breathe easier.
Pure Miracle!!
This oil took my 100% narcissistic husband of 22 years and turned him into a teddy bear for the first time EVER!! PLEASE do not discontinue this!!
Pretty zenful smell!
All of these blends are a little expensive so the value is a little less than it could otherwise be.
Perfect Blend!
As an educator, I suffer from headaches (imagine that). I have to take a migraine tablet (over the counter, not prescription) at the right time or it will not be effective. However, I am a strong believer in essential oils (anything natural ..worked before the invention of the apothecary, right?!) and this one is now my all time favorite. I was hesitant to spend more than $10 (Yes, I know "REAL" purse oils are much more expensive) but I went ahead and tried this out. WOW! The scent is the perfect mix of four essential oils! I have diluted the pure oil into one of my dark glass bottles with MCT oil (unscented coconut) and I can dab it on my temples, behind my ears and pulse points. It has definitely calmed me. I even use it when I am just feeling stressed, without the headache. It truly has helped. I saw they sell other products, especially one for anxiety so I must purchase that one for my daughter. Excellent product!
Great buy it
Been buying this two years great company so get anxiety one