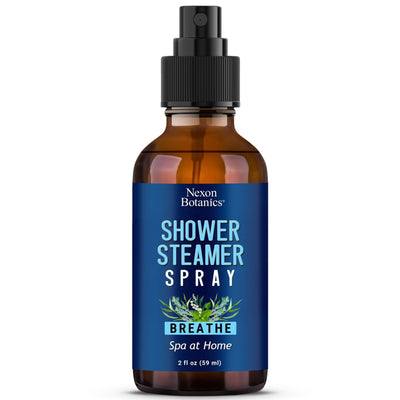 Breathe Shower Steamer Spray
The invigorating and refreshing scent of Breathe Shower Steamer Spray creates an ambiance of positivity and joy in your space. This shower steamer spray is carefully formulated to make your bathtime feel like a cathartic and therapeutic experience, allowing you to enjoy a spa-like luxury at home. 
Breathe Spray uses a unique blend of rosemary, eucalyptus, peppermint, and niaouli oils that promote clear breathing and headache ease. The purifying and cleansing properties of essential oils in this spray support a clean and fresh atmosphere and help with congestion and stuffiness.
Our shower steamer contains pure and natural ingredients that are safe for use around the house. It is an excellent air freshener that effectively deodorizes foul odors and offers various aromatherapy benefits. Made in the USA.
Benefits
Natural Essential Oils:

It is a blend of pure and natural eucalyptus, rosemary, peppermint, niaouli oils.

Boosts Your Mood:

  A refreshing and invigorating scent to make you feel positive and happy. 

Comfortable Breathing:

The therapeutic properties of essential oils in this steam spray ease stuffiness, congestion, and headaches allowing you to breathe comfortably.

Spa-like Luxury at Home:

Experience spa-like luxury at home! Various aromatherapy benefits.

100% natural, non-GMO, 100% vegan, cruelty-free. Proudly made in the USA.
Ingredients
Eucalyptus Leaf Oil, Rosemary Oil, Peppermint Oil, Niaoli Oil