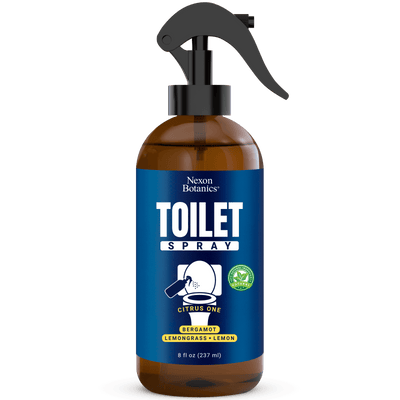 Just a spritz of Nexon Botanics Citrus One Toilet Spray will have your space smelling clean and crisp. This refreshing and innovative spray makes every visit to the bathroom a pleasant experience. It is crafted with precision and care with the blend of invigorating natural citrus oils to eliminate unpleasant odors instantly. 

Whether it's a busy household or a shared workspace, this toilet spray is your secret weapon for maintaining a fresh and inviting atmosphere. With Citros One, you're not just masking odors, you're filling your environment with a burst of revitalizing fragrance. Use it as an air freshener for bedrooms, living rooms, cars, laundry and etc. It is a non-GMO, cruelty-free, and paraben-free product. 
Benefits: 
Instant Odor Neutralization:

Citrus One Spray boasts a potent formula that eliminates unpleasant odors, leaving behind a clean and revitalizing scent.

Natural Citrus Oils:

Infused with the essence of zesty citrus fruits, this toilet spray delivers a refreshing fragrance that uplifts your senses.

Discreet and Convenient:

With its design, the Citrus One Toilet Spray fits seamlessly into your purse or pocket for odor-fighting power wherever you go.

Organic and Safe Formula:

Committed to sustainability, Nexon Botanics ensures its products are not harmful to you and the planet.

Multipurpose Product:

Beyond the bathroom, this versatile spray can be used in the car, office, or any space in need of a quick odor makeover. 
Ingredients:
Pink Grapefruit Oil, Orange Oil, Lemon Oil, Lemongrass Oil, Eucalyptus Oil. Bergamot Oil