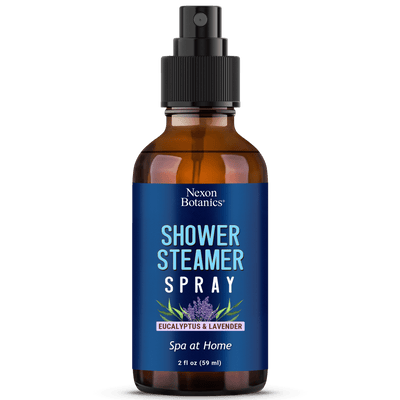 Eucalyptus, Lavender Shower Spray 2 fl oz
Leave your stresses behind and enter the realm of calm with the exotic scent of Eucalyptus & Lavender Shower Spray. This shower steamer spray has a soft and exotic scent that enhances the mood and ambiance. While lavender oil's pleasantness will invoke a sense of calm and satisfaction, the invigorating effects of eucalyptus oil soothe the senses and congested sinuses. Take this aromatherapy mist with you wherever you go to experience a moment of tranquility. It can also be used as an air freshener and deodorizer. Made with pure and natural oils. 
Benefits
A Natural Mood Enhancer:

The lavender and eucalyptus essential oil combo creates a soothing scent that always uplifts the mood even when you feel exhausted. 

Relaxing Shower Experience:

Fill your shower room with this wonderful scent and enjoy a peaceful evening after a long day.

Encourages Feelings of Clear Breathing:

Eucalyptus oil contains camphor which has been known to help with easing congested airways. 

Refreshes Any Room:

Both eucalyptus and lavender oils have detoxifying qualities that can help deodorize any space while providing an inviting atmosphere. 

Pure And Natural Ingredients Only:

We use only natural ingredients in our products so you can enjoy

the benefits

of aromatherapy without any artificial fragrances or dyes.