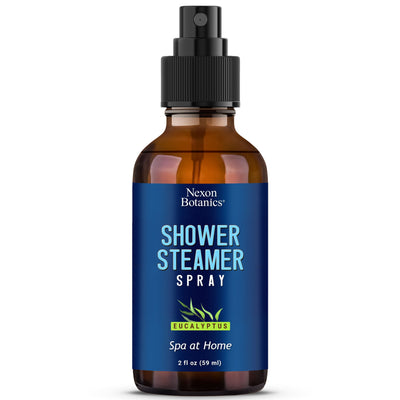 Eucalyptus Shower Steamer Spray
Uplift your spirit and improve your mood with this ultimate shower luxury—Eucalyptus Shower Steamer. It transforms your mundane bath time into a holistic experience, rejuvenating your mind, body, and senses with its energizing aroma. 
Infused with the therapeutic and goodness-filled properties of eucalyptus oil, this steamer spray soothes breathing discomfort, congestion, headache, and stuffiness. 
Disperse this aromatherapy spray into the air and create an ambiance of freshness, happiness, and positivity that makes you feel luxurious. It has no harmful chemicals or fragrances. Made in the USA.
Benefits 
Ultimate Shower Luxury

: Experience a therapeutic spa-like luxury at home with an invigorating and refreshing fragrance of Nexon Botanics Eucalyptus Shower Steamer.

Uplift Your Spirit

: Let your senses get calm in the pure and natural aroma of eucalyptus essential oil.

Natural Congestion and Headache Therapy:

Pinene, camphor, and piperine compounds in eucalyptus oil ease congested airways and stuffiness. Helps you breathe comfortably.

No Chemicals:

This spray is Non-GMO, non-toxic, undiluted, and unfiltered made, and packaged in the US.

Packaged In USA: Proudly packaged in the USA.
Ingredients
Eucalyptus Essential Oil