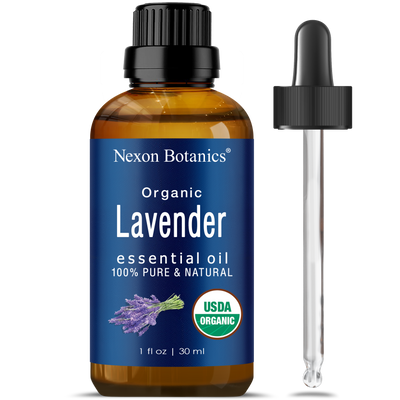 Nexon Botanics USDA Certified Organic Lavender Essential Oil is a combination of pure, natural, Lavandula Angustifolia, and Lavandula Hybrida.
Benefits

COMPLEMENTARY BENEFITS: This essential oil has a combined benefit of both the Angustifolia and Hybrida family. Angustifolia having the perfect aroma and Hybrida having several skin care benefits.
SKIN CARE: It protects the skin by neutralizing free radicals throughout the environment, enhancing your overall skin quality and appearance. Use MCT oil or carrier oil to dilute before direct contact with the skin.
PROMOTES RELAXATION: Organic Lavender Oil promotes relaxation by creating a peaceful environment, helps reduce stress, anxious feelings, and headaches. You can also use it before going to sleep by applying it on your temples, back of your neck, or the soles of your feet.
PERFECT FOR AROMATHERAPY: Lavender essential oil is the most commonly used essential oil in aromatherapy due to its sweet, floral fragrance. Our bottle has an integrated dropper for a mess-free experience!
Essential Oil Dilution for Topical Use:

 

Mix two drops of your favorite essential oil per teaspoon of carrier oil or five drops for every 10ml of carrier oil.
Excellent Product
I love the fragrance. I love that it is certified organic. I use it in my diffuser in my bathroom. I add a little bit to apricot kernel oil for the fragrance. I put a couple of drops on a wipee to refresh summertime body odor. I buy it often. Great price too.
100% Recommend
I just reordered more. I've used several organic lavender essential oils, but once I used this one I could never use another again. 100% recommend!
Lovely scent of real lavender
I like everything about this lavender oil. I have two diffusers going right now. One in my kitchen and one in my bedroom. I would definitely buy this brand again.
Not too shabby
I like that it smells good I like the price and last but final I love the quality.