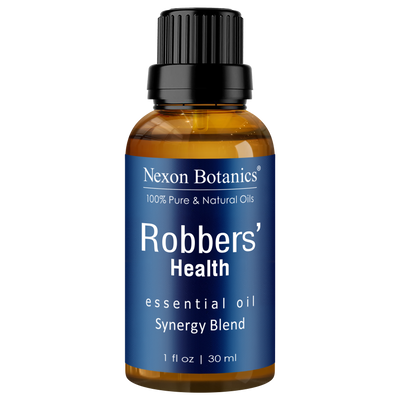 Robbers' Health Essential Oil Blend
Nexon Botanics Robbers' Health Essential Oil Blend consists of a proprietary combination of Cinnamon, Clove, Eucalyptus, Lemon, and Rosemary oils. These oils are therapeutic grade and blended in the USA. You can compare this blend to Young Living Thieves Oil, Eden's Garden Fighting Five, Healing Solution Health Shield, and Plant Therapy Germ Fighter.
Benefits
THE PERFECT SOLUTION FOR HOUSEHOLD CLEANING: It can be diluted with MCT oil or vinegar in a spray bottle for chemical-free sanitation.

PROMOTES HEALTHY AND CLEAN ENVIRONMENT: It helps deodorize foul odors

EXCELLENT PERSONAL CARE PRODUCT: Use it on socks, shoes, feet, or any other smelling substance or location. Dilute with a carrier or MCT oil when applying to the skin or add a few drops to your diffuser. Integrated dropper helps to keep things mess-free!
Great Scent and Overall Oil
This oil blend is invigorating for my body, helps my hair to be thick again and I'm not losing hair anymore (I'm 52), helps in my fight against these mite bites I've been getting, and smells wonderful to me.
My Husband Loves This Stuff
I will continue to purchase before we run out because he loves the smell. He wishes there was more clove smell, but I think there is plenty. I appreciate the price tag on this too!
Robber's Health
I was using THRIVE from Farm to You but they discontinued the product. Robber's Health has the exact ingredients. I am so glad I decided to try this - it is even better than the one I was using.
Excellent product!
I use this to scent and have natural anti-bacterial properties in my foaming hand soap. I feel it's every bit as good as other brands (it has the same ingredients). Great value for the money.
Robbers' Health Essential Oil Blend