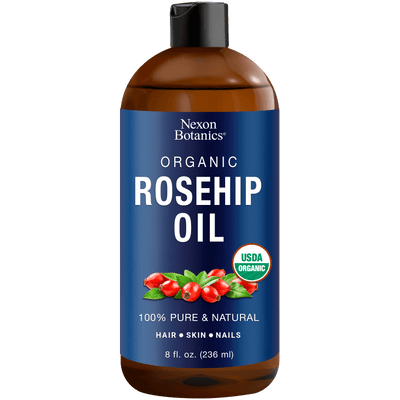 Nexon Botanics' Organic Rosehip Oil comes straight from the heart of Mother Nature herself. Packed with potent vitamins, antioxidants, and essential fatty acids, this organic oil is your ticket to a complexion that glows with vitality and youthfulness.
Our Organic Rosehip Oil is lightweight and fast-absorbing and provides versatile benefits. A gentle massage with rosehip oil fortifies the follicles and breathes new life into lackluster hair. You can apply it to your nails for enhanced shine and nail growth. Our Organic Rosehip Oil is cold-pressed, cruelty-free, and non-GMO, certified by the USDA. 
Benefits
Eternal Youth in a Bottle:

Our Organic Rosehip Oil contains a high concentration of Vitamins A, C, & E. Use it to renew tired skin and reduce the look of fine lines and wrinkles for a radiant complexion.

Delivers Intense Hydration:

Nexon Botanics' Organic Rosehip Oil has a unique molecular structure that allows it to penetrate deeply, providing intense hydration without clogging pores, leaving your skin plump and smooth.

Combats Skin Imperfections:

This Organic Rosehip Oil promotes skin regeneration and fades imperfections to reveal even-toned, flawless skin.

Shield Against Damage:

Our

Rosehip Oil defends your skin against the harsh effects of pollution, UV rays, and free radicals. 

Gentle & All-Natural:

Our

Organic Rosehip Oil is cold-pressed and unrefined, preserving its full spectrum of nutrients. It's 100% pure, vegan, and free from harmful chemicals.