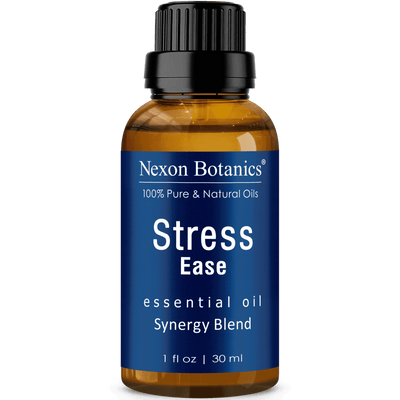 Stress Ease Essential Oil Blend
Our Anxiety Relief Blend is the New Stress Ease!
Nexon Botanics Stress Ease Essential oil blend consists of a proprietary combination of Lemon, Black Spruce, Geranium, Lavender, Ylang Ylang, Sweet Orange, Patchouli, Clary Sage and Frankincense Oils. These oils are Therapeutic Grade and Blended in the USA.
Benefits
Stress Ease: Stress Ease Blend helps to ease anxious feelings and stress and can be used with a diffuser. To use dilute with a carrier oil before any contact with skin.
Aromatherapy Benefits: These blends support ambiance that promotes relaxation, tranquility, and balance. Creating a perfect atmosphere for Aromatherapy.
Calming Environs: Stress Ease Blend promotes a calm and soothing environment that can be in your office, kitchen, or even on a long drive.
I'm impressed with the quality of these essential oils.
My career in therapeutic massage has included the safe and beneficial use of essential oils. I created my own blends with great care, and discovered the spectrum of oil qualities on the market. I have not been impressed with expensive popular brands, especially YL, because of a common base note I dislike. Nexon's Anxiety Blend is my first venture into the oils of this company/ As a 24/7 care giver I use it in my diffuser daily. This is an uplifting blend - not imposing or heavy at all. I am also a Covid long-hauler, and consider this blend part of my self care, because I have a lot on my plate! Whenever I return home I just smile when I open the door. This Anxiety Blend has truly improved my environment. I just hope your prices don't go up, so I can continue to explore your offerings! Thank you, and I'll continue to purchase this particular blend.
Anxiety Essential Oil Blend
Anxiety Essential Oil Blend
Exceptional quality product! It's really works for mind and body!
Total Ease!
I'm in love with the small, after a long day this blend puts me in total relaxation mode. Just add a few drops of it into your diffuser and enjoy.