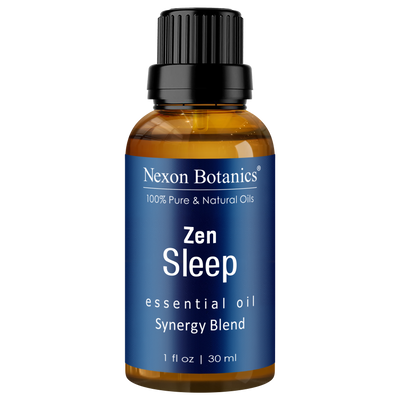 Zen Sleep Essential Oil Blend
Nexon Botanics Zen Sleep Essential Oil Blend consists of a proprietary combination of Lavender, Orange, and Rosemary oils. These oils are Therapeutic Grade and Blended in the USA.
Benefits
PEACEFUL SLEEP: This blend creates an ambiance that promotes calm and peaceful sleep. In order to use simply place a few drops on your pillow, comforter, or bedsheet at night.

AROMATHERAPY BENEFIT: Zen Sleep can be used for Aromatherapy, just add a few drops to your diffuser and fall asleep to its environment. Adding Zen Sleep Essential Oil to your bath is also a great way to unwind before bed.

MASSAGE USAGE: Dilute with MCT oil before direct contact with skin. Massage the reflex points of your feet, back, or neck for a soothing and relaxing effect.
Amazing "sleep"
It really does work and relax you!
Use almost every night!
I use this almost every night before going to bed, this blend is relaxing and probably the best affordable one I have tried for sleep!
Amazing calming effect
After using this product for a week, my sleeping pattern improves a lot. I can now sleep with ease and the scent effectively diverts my thoughts at peace.
Don't use it in bath for to long on sensetive skin
Amazing smell relaxing it sais that you can use it in bath but when i used it it gave me burning not good feeling sensession on my lower body. I would use it in a oil defuser but defenatly would not put it straight on ur skin especially on verry sensetive skin to.
Awesome scent
Definitely a wonderful blend for relaxation and sleep.