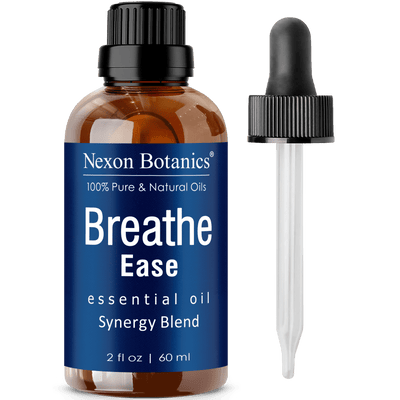 Breathe Ease Essential Oil Blend - 60ml
A blend of therapeutic-grade essential oils combined to create a refreshing and invigorating aroma. When diffused, Breath Ease Blend encourages feelings of clear breathing in a stuffy environment and supports a positive ambiance. For massage, dilute Breathe Ease with any carrier oil to comfort fatigued muscles and strained joints. It comes in a travel-size bottle for you to carry anywhere you go for a quick aromatherapy experience. Our blend contains 100% pure, natural, and non-toxic essential oils. It is packaged and blended in the USA. 
Benefits
Blend Of Therapeutic Essential Oils:

Nexon Botanics Breathe Ease Essential Oil Blend is a unique combination of therapeutic grade Eucalyptus, Rosemary, Peppermint

, and Niaouli Oils. 

Ease During Seasonal Changes:

This blend helps soothe seasonal congestion and stuffiness while promoting feelings of clear breathing. It also works to keep the environment clean and fragrant naturally. 

Soothes Congestion and Breathing Discomfort:

As weather changes can cause unpleasant symptoms, this blend is a natural remedy for achieving comfortable nasal breathing.

Relaxing Blend To Unwind and Rest:

Before applying directly on the skin or chest, make sure to dilute with MCT oil. 

It is blended and packaged in the USA.
Ingredients
Niauli Oil, Eucalyptus Oil, Peppermint Oi, Rosemary Oil