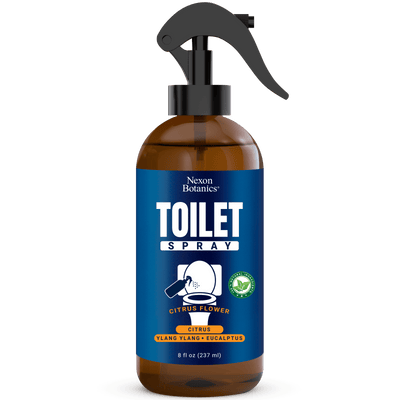 Citrus Flower Toilet Spray 8fl oz
Description: 
Introducing Citrus Flower Toilet Spray, a unique blend of grapefruit, lemongrass, eucalyptus, and bergamot essential oils. This toilet spray is a natural alternative to chemical-based bathroom air freshener sprays. Its potent formula captures and eliminates foul odors at their source, preventing them from dispersing into the air.
Citrus Flower Toilet Spray extends its freshness beyond the bathroom walls. It can be used in various spaces like the living room, bedroom, car, or laundry area. Additionally, this compact and convenient travel-size toilet spray comes in an 8-fluid-ounce bottle, offering up to 400 uses. Ideal for travelers, it guarantees a more pleasant bathroom experience for everyone. It is made and packaged in the USA. 
Benefits:
Fresh Bathroom: Citrus Flower Toilet Spray tackles even the most stubborn odors, leaving your restroom smelling as fresh as a morning breeze.
Long-Lasting Fragrance: Enjoy an enchanting citrusy scent that lingers for hours, providing a refreshing bathroom experience.
Natural Ingredients: Crafted with plant-based components, Citrus Flower Toilet Spray offers a luxurious aromatic experience that respects our planet.
Enhanced Privacy: It creates an invisible barrier that instantly removes odors, ensuring a more comfortable and discreet environment for all.
Versatile Usage:
Freshen up any space, whether it's your living area, office, or bedroom, with this captivating fragrance that transcends beyond the bathroom.