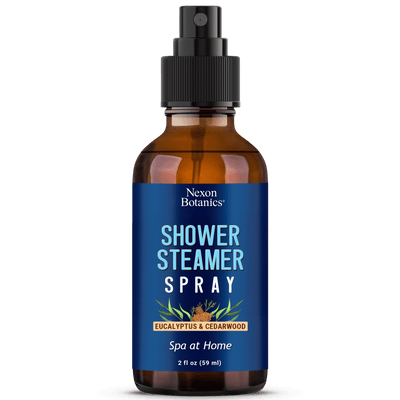 Eucalyptus, Cedarwood Shower Spray 2 fl oz
Transform your regular shower routine into a luxurious spa session with the wonderful scent of Eucalyptus & Cedarwood Shower Steamer Spray. It combines pure and natural eucalyptus and cedarwood oils to create a calming aroma for a serene ambiance. Include this shower essential to your everyday self-care ritual for deep relaxation and rejuvenation. No artificial dyes, fragrances, or harmful toxins have been added to this shower steamer spray; so your entire family can enjoy the amazing scent. It is packaged and blended in the USA.
Benefits
Calming Atmosphere:

Enjoy the therapeutic benefits of eucalyptus and cedarwood essential oils with this shower steamer to help you relax and unwind. 

Relaxing Aromatherapy:

Refresh your senses and ease your mind by including this aromatic spray in your everyday shower ritual. 

Breathing Ease in Colder Months:

The combination of these two soothing essential oils helps clear congested airways, encouraging comfortable breathing during colder seasons.

Versatile Uses:

Use as an air freshener, deodorizer, or aromatherapy mist.

Chemical-Free:

Made with 100 natural and pure essential oils, packaged and blended in the USA.
Ingredients
Eucalyptus Essential Oil, Cedarwood Essential Oil