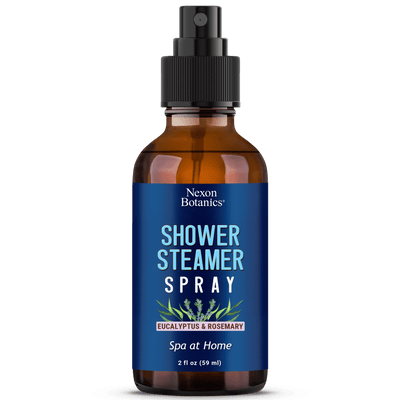 Eucalyptus, Rosemary Shower Spray 2 fl oz
Eucalyptus & Rosemary Shower Spray is carefully designed with pure and natural essential oils for a holistic aromatherapy experience. It is a combination of invigorating eucalyptus oil combined and refreshing rosemary oil to soothe the senses and uplift the spirit. Turn on the water and spritz this shower spray into the steam to inhale this refreshingly energizing scent and enjoy a relaxing bath. This travel-friendly bottle comes in handy to deodorize any space when you are away from home. It is packaged and blended in the USA.
Benefits
Shower Luxury:

Enjoy the refreshing aroma of pure eucalyptus and rosemary oils that relax your mind and soothe your senses for a tranquil spa session at home. 

Breathing Comfort:

This shower spray exudes the fresh and cooling scent of eucalyptus to encourage clear breathing and invigorate your spirit. 

Uplifts Mood:

With the stimulating aromas of eucalyptus and rosemary oils, this mist creates a joyful ambiance and instantly boosts your mood. 

Air Deodorizer

: Use this spray to deodorize any space and breathe in a clean and hygienic atmosphere.

Chemical-Free:

Made with pure and natural essential oils without any artificial fragrances or additives, packaged, and blended in the USA.
Ingredients
Eucalyptus Essential Oil, Rosemary Essential Oil